Thomson TAK
Jump to navigation
Jump to search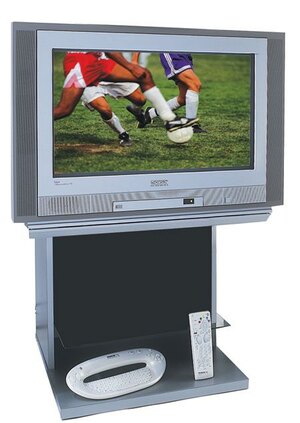 The Thomson TAK was a France exclusive interactive all-in-one TV set produced by Thomson Multimedia in 2001. The device ran on an embedded Microsoft TV client and took the form of an actual monitor, unlike other WebTV devices which were only known to have been produced as set top boxes. Only one TAK model is known to have been made (the ICC20), though there's a chance that more than one are out there due to the fact that photographs of TAK devices in multiple different colors exist.
As of the last quarter of 2002, the TAK product line had been discontinued and "some related services (had) been transferred to a service provider."
Features
The main features of the TAK included:
"Practical Life" (weather reports, etc)
Web Browsing
Email
A "TAK And Me" page (personalization)
News
TV Info + TV Guides
Interactive TV (games, etc)
Teletext (used in other countries under TOP Text, Fastext, FLOF text and Videotext)
Dolby Virtual Surround
The ability to control a Hi-Fi Radio System
Technical
While not much is know about the technical side of the TAK, here's what we do know:
A VCR could be connected to the TV (AV1 socket) using a SCART/SCART cable (21 pins, all wired) which would supposedly enable similar functionality to that of connecting a WebTV to a VCR. The device could also be fitted with a modulator for recording purposes.
There's a chance that the TAK utilized CompressFS, due to the fact that the Microsoft TV platform likely did.
Control
The TAK came with both a keyboard and remote. The remote seems to have capability to control a radio built into it and seems to also work as a Universal Remote. The keyboard, (Model KCT5000) included two large buttons that were seemingly used for volume control and a TAK button that was supposedly used for "Accessing Services" which likely means that it was a key to redirect to the Home menu. The keyboard also stands out for the fact that it was designed EXTREMELY different in terms of shape from any other keyboard of the time, whether produced by other keyboard manufacturers or product for use with WebTV products.
External links