DINKY
Jump to navigation
Jump to search
DINKY is an ASIC chip found primarily in "New Classic" WebTV/MSN TV boxes. It was designed in 1999 and made by Toshiba, basing the chip off of their 3.3/5V TC223 ASIC. What purpose it serves is currently unknown, but it's believed to be based off of the Solo chip found in WebTV Plus and Japanese WebTV boxes.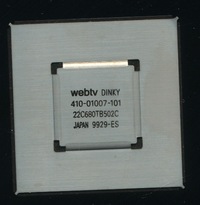 Boxes known to carry the DINKY chip:
Sony INT-W150
Philips Magnavox MAT965
RCA RM2100 (MSN TV)
Notes
1. WebTV/MSN TV firmware designed for the New Classic is known to run on the New Plus, seemingly with no trouble. Features related to TV are still disabled, and both boxes did not officially use the same exact firmware.