Services/Gallery/Home
Jump to navigation
Jump to search
Service Name: Home
Description: WebTV/MSN TV home page and related content.
Availability by Unit: All
Notes: N/A
Images
Original WebTV (Home 1.0 - 2.5)
Collection of images of WebTV home page revisions 1.0 - 2.5. These revisions were used before the MSN TV rebrand. One unique aspect of the pages starting from revision 1.1 is that the mailbox icon would change depending on the amount of unread mail a user had.
No unread mail = empty mailbox; 1 unread message = mailbox with one envelope inside; 2 unread messages = mailbox with two envelopes inside; 3+ unread messages = full mailbox (3 envelopes)
1.0: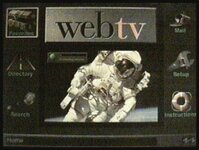 ---
1.1:
---
2.5:
WebTV Plus
1.1:
MSN TV (Home 2.6 - 2.9)
Intiial revision (2.6):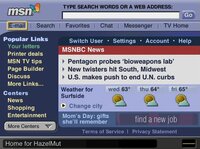 ---
2.7 (Prototype/Final):
---
2.9:
Credits/Legal Pages
If you click on the MSN/WebTV logo on the home page, it is believed it takes you to a page where the credits and legal information are linked.
Copyrights/Trademarks screen (pre-MSN TV):