Services/Gallery/Tricks
Jump to navigation
Jump to search
Service Name: Tricks
Description: WebTV/MSN TV Tricks section. Offered various troubleshooting services presumably for testing. Originally restricted and required a password for access.
Availability by Unit: All
Notes: N/A
Images
Services
WebTV Info
The WebTV Info Tricks page displays information about the server a user is connected to, along with technical information about their box.
Stayin' Alive
"Stayin' Alive" allows a user to remain connected on the WebTV service for 24 hours.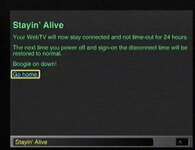 "Big Willie's ROM Flash Download Center"/"Little Willie's House of Flash"
Big Willie's/Little Willie's was a flash ROM download center, allowing a user to upgrade/retrograde to any flash ROM version as they chose.
Big Willie: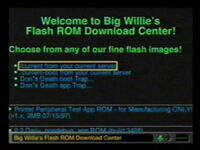 Little Willie (after being disbanded):