UltimateTV
Jump to navigation
Jump to search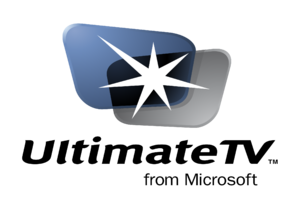 UltimateTV is the name for DVR technology developed by Microsoft. It was derived from technology originally developed by WebTV Networks. The product launched in March 2001 and was available through DVRs offered by DirecTV, but plans for this technology are known to go back as far as late 1997. UltimateTV boasted features such as a dual satellite tuner that enabled the ability to watch or record two shows at the same time, up to 35 hours of recording space, "one-touch recording", instant replay, and automatic software upgrades, although most competing DVRs at the time, such as TiVo and ReplayTV, already had some of those features (save for the dual tuner). Unique to DVRs of its time, UltimateTV also had integrated internet access made possible with the existing WebTV/MSN TV service. The software that UltimateTV DVRs ran is custom, using the Windows CE kernel and implementing technology originally seen in WebTV/MSN TV.
Only three DVRs made for DirecTV ever supported the UltimateTV technology, which were manufactured by RCA and Sony. New UltimateTV hardware stopped being manufactured in January of 2002, although the UltimateTV service continued to operate for existing subscribers.
History
The UltimateTV project is known to go back as far as late 1997. It was originally conceived as a high-end tuner that could process two high-definition video feeds simultaneously and support picture-in-picture, as stated in a Behind the Code interview with Nick Baker. When it released in March 2001, the high definition video capabilities were scrapped to cut costs. The first two UltimateTV receivers available at launch were the Sony SAT-W60 and the RCA DWD490RE. The two manufacturers of these receivers were also manufacturers of WebTV/MSN TV hardware before UltimateTV. The RCA DWD490RE retailed at $199 and the Sony SAT-W60 retailed at $499. While not technically a different unit, the RCA DS4290RE, which consisted of a DWD490RE receiver bundled with a dual-LNB satellite dish, was also an option at launch and retailed at $249. All three options had 40 GB of hard disk space included with the receivers. A third receiver was released after launch, named the RCA DWD495RG, which had 80 GB of hard disk space.
Despite the ambition Microsoft put into UltimateTV, it didn't do so well commercially, namely due to the unreliable nature of the DVRs. Common complaints were that the UI was slow and clunky, and that the software had numerous bugs, which would range from inconsistencies responding to user input, to a bug that would incorrectly keep deleted recordings on the hard drive if deleted in a certain way, restricting the hard drive space. UltimateTV was also only available through a specific satellite provider, while competing options were compatible with any TV system. This limited UltimateTV's potential reach to DirecTV subscribers.
By January 2002, UltimateTV had officially been discontinued. New UltimateTV hardware stopped production altogether, and the UltimateTV division at Microsoft disbanded and employees were either sent to the MSN TV or Xbox divisions, or had to look for jobs elsewhere at the company. [1] UltimateTV had sold around 100,000 units before being discontinued. The UltimateTV service, however, continued to operate for existing subscribers. Software upgrades also continued to be published for UltimateTV up until the summer of 2007, where the last update was published. Said update was made to maintain compatibility with DirecTV's updated program guide service at the time.
Service
The base UltimateTV service required to use the UltimateTV receiver cost $9.95/mo alongside regular DirecTV service fees. It offered the following features:
Satellite TV
14-day electronic program guide (EPG)
Up to 35 hours of recording space
Pause Live TV
Instant Replay
Interactive TV
Automatic software upgrades
Search for TV programs by title, person, or topic
"One-Touch Recording"
3 free hours of internet access per month from the WebTV/MSN TV service
Dual satellite tuner

Record two live shows at the same time
Watch one show while recording another show
Watch a recorded show while recording two live shows
Software upgrades could be downloaded through DirecTV's satellite infrastructure or through a telephone line connected to the UltimateTV service. If an UltimateTV subscriber wanted unlimited internet access, they would have to pay an additional fee. This fee would be $20/mo for those subscribing to the WebTV/MSN TV service, and $5/mo for those wanting to use their own ISP.
Technical
UltimateTV receivers ran software built for the MIPS architecture. The RCA DWD490RE and Sony SAT-W60 are known to use the RM5230 series of MIPS processors from Quantum Effect Design, who also supplied processors for first-generation WebTV/MSN TV internet terminals.
The stock software that ran on UltimateTV receivers is a custom OS built on the Windows CE kernel that implements technology originally used for WebTV/MSN TV. The OS also appears to have similar setup to the original WebTV/MSN TV firmware, in that it uses a browser and HTML pages for the user interface.
CompressFS
See CompressFS.
Solo2
Microsoft had planned to create a successor to the custom WebTV enhancement ASIC, Solo, named "Solo2", for use specifically with UltimateTV hardware since 1999. This ASIC introduced new features tailored for DVR use, such as the ability to process several video streams at once and the introduction of a DAC to display digital content directly on a television through analog output (i.e., RCA output, RF, S-Video). It was also announced that Toshiba would be the one manufacturing Solo2 chips. Not much else is known about this chip at the moment.
External links